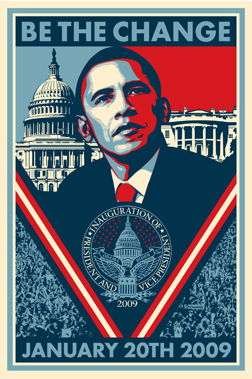 The Forest Stewardship Council – United States (FSC-US) has announced that President-elect Barack Obama's one million inaugural invitations will be printed on FSC certified paper. The invitation envelope and a special insert will proudly bear the FSC trademark.
This FSC-certified product request represents a milestone for FSC-US, demonstrating recognition of the importance of FSC certification of at the highest levels of the U.S. government. FSC is the global consensus voice of responsible forest management, and is the only forest products certification system endorsed by the world's leading environmental advocacy groups like the World Wildlife Fund, The Nature Conservancy and the National Wildlife Federation.
Three FSC-certified companies are helping ensure that this historic event reflects the economic, environmental and social values of the incoming administration. This FSC printing project started with post-consumer recycled paper pulp at Neenah Paper's Whiting mill near Stevens Point, Wisconsin. The paper was purchased by merchant Lindenmeyr Munroe, a subsidiary of Central National Gottesman, Inc. of New York. The paper was drop shipped from Neenah Paper's mill directly to Precise Continental, based in Brooklyn, New York.
Precise Continental is engraving three impressions upon the inaugural invitation. The FSC-certified invitation will be placed inside an FSC-certified envelope and accompanied by an FSC-certified insert. Both the insert and the envelope will bear the FSC label. In order to meet the January 2nd deadline, Jim Donnelly, president of Precise Continental, and his 65 employees will work around the clock.
All three companies in the supply chain are Forest Stewardship Council Chain-of-Custody certified in order to sell FSC certified products and demonstrate their commitment to responsible forest management.